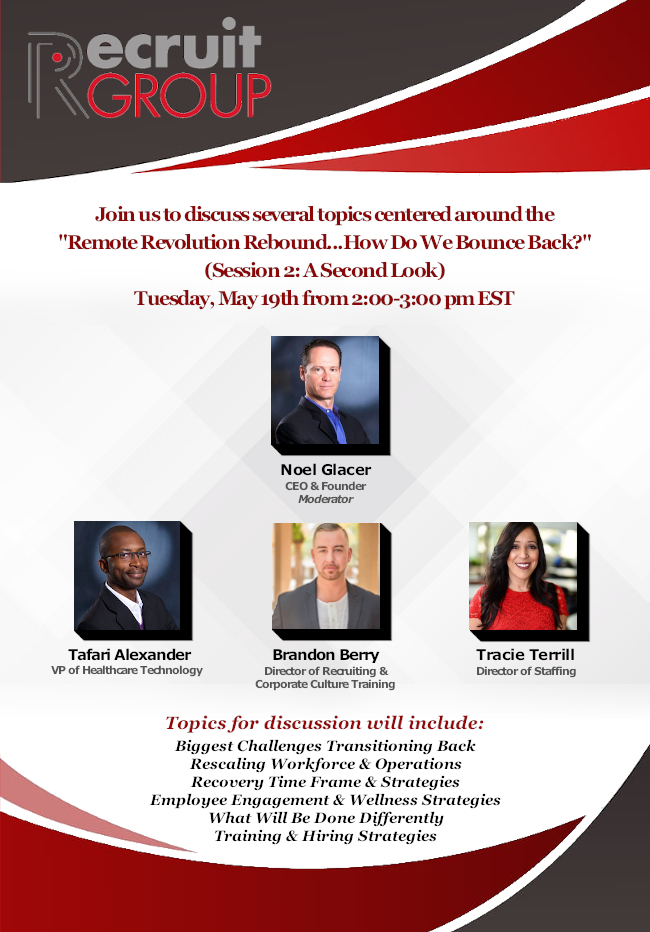 On May 19, 2020 we held a global webinar moderated by our Founder/CEO Noel Glacer to have our leadership team share what we were hearing from candidates and clients across the country, including their biggest challenges, strategies and innovations being used as they started to prepare to go back to their office settings or create their new normals. 
Tracie, our Staffing Director, speaks to "survivor syndrome" being a new emotion felt by many employees and how their organizations are increasing EAP offerings and other support systems to help alleviate these new stressors.
Connect with Tracie on LinkedIn: https://www.linkedin.com/in/tracie-terrill-54228ba/
Tafari, our VP of Healthcare Technology Recruiting, speaks to opportunistic hires quickly becoming a theme and trend for CXOs. They know in this candidate saturated market that they might be able to scoop up a desired individual for a fraction of the cost.  
Connect with Tafari on LinkedIn: https://www.linkedin.com/in/tafarialexander/
Brandon, our Director of Recruiting, Training & Development, firmly believes "employees leave managers, not companies" and speaks to the three biggest changes being:

1) Managers trained more to emotional intelligence
2) Companies diving into what really motivates employees to retain current and attract new top talent
3) Companies right-sizing and re-purposing their divisions and employees
Connect with Brandon on LinkedIn: https://www.linkedin.com/in/brandon-a-berry/