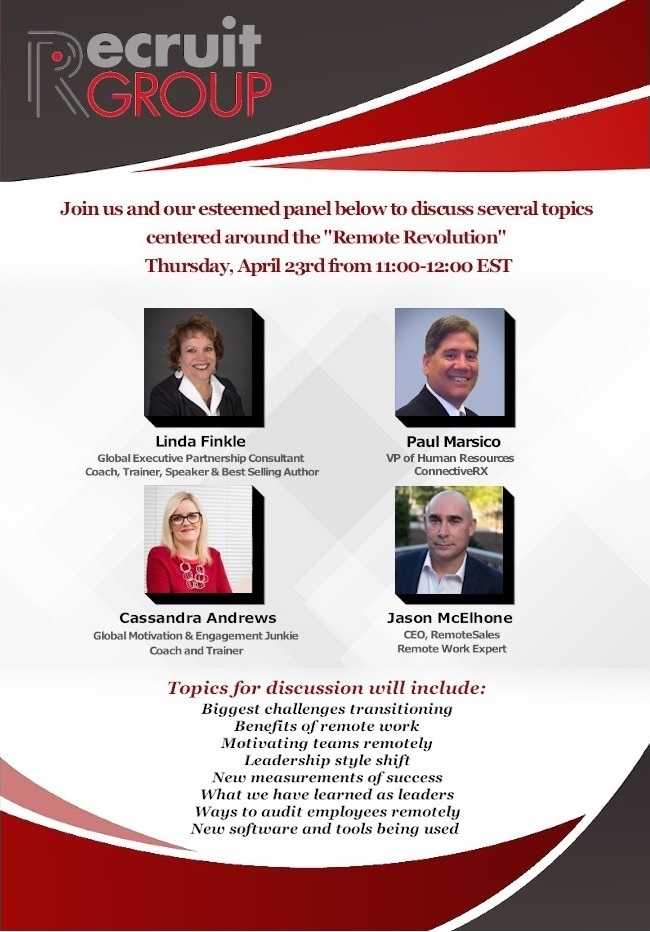 On April 23, 2020 we held a global webinar moderated by our Founder/CEO Noel Glacer to discuss the remote revolution and how working from home will affect corporate culture moving forward in the new normal. 

Just in case you missed it…we have you covered!  Watch the highlights and feel free to reach out to us to discuss what you have learned or changed at your company.  We are excited to hear from you.
CEO of Remote Sales and remote work expert/consultant is never afraid to give it to you straight and that is why we love him. Jason tells us "that 80% of your day whether at home or the office is the same" and "companies are seeing an average of 20% productivity increases."
Check him out at https://www.linkedin.com/in/jasonmcelhone/
Linda Finkle is one of the best global executive partnership consultants out there. She is a coach, trainer, speaker and can also add best selling author to her list of accomplishments. Linda tells us during the webinar that "the real struggle for sales individuals in this market is not the NO, but getting the chance to even have a conversation."
Check her out at https://www.linkedin.com/in/lindafinkleincedogroup/
Global motivation and engagement junkie, coach and trainer speaks to how you can have employees who are highly skilled but not productive due to lack of motivation. Cassandra can physically measure and identify your teams motivations and help create a plan to re-engage. 
Check her out at https://www.linkedin.com/in/cassandraandrews/